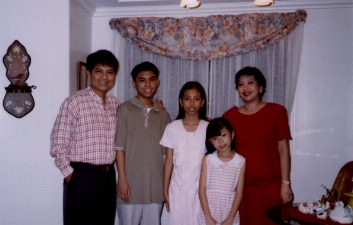 I'm the middle kid
About Me
General Stuff:
Name: Melissa Kaori S. L.
Meaning/Origin of Name:
Melissa, a 3-syllable girl's name of Greek origin, means: A bee; industrious
- taken from Parent Soup
Sex: Female
Nickname: Miki
Meaning/Origin of Nickname:
Miki, a 2-syllable girl's name of Hebrew origin, means: Who is like God?
- taken from Parent Soup
History of Nickname (just in case u were wondering): My mom was pregnant with me in Japan, 'n in Japan, "Miki-Chan" is a very popular name, so that's what they nicknamed me. My name "Kaori" also has the same story by the way. Anyway, I was still born here in the Philippines . Oh, yeah, as time passed, my nickname "Miki-Chan" became just plain "Miki".
Country: Philippines
Age: 12
Birthday: December 23
Favorites:
Obsessions: Sweet Valley Senior High [especially the Conner Mcdermott-Elizabeth Wakefield thing going :o)], Charmed [especially the Piper and Leo thing :o)], Roswell [especially the Max and Liz thing :o)], Jeniffer Love Hewitt, Audrey Hepburn, Jason Behr, Shiri Appleby, Freddie Prinze Jr., She's All That, the internet, Neopets
Favorite Character/s: Winnie the Pooh, Smileyface
Beloved Books (in order): Anne of the Island by L.M. Montgomery, Anne of Green Gables by L.M. Montgomery, Sweet Valley High Senior Year by Francine Pascal, The Gammage Cup by Carol Kendall, Roswell by Melinda Metz, A Wrinkle in Time (the four books) by Madeleine L'engle
Favorite Authors: Francine Pascal, Madeleine L'engle, L.M. Montgomery, Carol Kendall
Favorite Movies(in order):
She's All That
All Scream Movies
I Know What You Did Last Summer
"Sana Maulit Muli" (a filipino movie)
Favorite Actors/Actresses(in order):
Jeniffer Love Hewitt
Audrey Hepburn
Shiri Appleby
Jason Behr
Freddie Prinze Jr.
Neve Cambell
Audrey Hepburn
Marisa Tomei
Kyle Chandler
Sarah Michelle Gellar
Lea Salonga
TV Shows I Love: Roswell, Charmed, Early Edition, Road to Avonlea, Buffy
Sitcoms I Find Hilarious: Friends, Two Guys, a Girl, and a Pizza Place, Holding the Baby, Frasier, Dharma and Greg, Will and Grace, The Nanny
Cartoons I Enjoy Watching: The Simpsons, The Little Lulu Show, Akazukin Chacha, Dexter's Laboratory, Hey Arnold
Favorite Channels: Kermit Channel, Hallmark, HBO, Nickelodeon, Cartoon Network, TCM (Turner Classic Movies)
Favorite Subject: Language/English, Music
Favorite Food: Doritos, choco chip cookies, fries, pizza, anything with tomato sauce, cheese, pasta, seafood, Japanese food, spicy food
Sports: Table Tennis, Tennis (at least I'm taking lessons this summer)
Miscellaneous:
Pet Peeves:
- snobs and exclusive
- "trying hard"
- inconsistent
- hypocrites
- liars
- too self-conscious
- too bossy and too much of a show-off
- copycats
- plagiarize
- the kind that doesn't admit when they're wrong
-"plastic"(those who cover up their true self for the sake of "fitting in")
- concerned only about the physical appearance
- very impatient
- harsh
- the ones who keep comparing people with others
- nosy
- too independent
our limited internet time
too much activities all at once
too much homework and tests
the following house rules:
- no watching TV during schooldays
- no computer during schooldays
having to wake up early morning

Stuff I Could Only Dream of Having: a walkman, a portable tape recorder, my own computer/laptop with internet connection, my own TV with cable and VHS player, unlimited internet time, colored cartridges for the printer which I wouldn't hesitate to waste :o), cd player, all the cd's and blank tapes i want, my own vcd player, all the videos i want *sigh*
Personality/Description: a perfectionist, thoughtful, lazy, talented, a bit bossy, private, talkative, light headed, neat/organized, independent, a bookworm, selfish, impatient, kind of a show-off, helpful, empathetic, smart, not very open, loyal, kind of a hypocrite, sometimes crazy ;o)
Favorite Quotes/Mottos:
"Success without honor is failure."
"Be yourself. Don't go along with the crowd."
"Look on the brighter side."
"What is essential is invisible to the eye."
Past Life:
(according to Past Life Game)

---
I do not know how you feel about it, but you were sorta female in your last earthly incarnation.
You existed somewhere around the territory of modern Jugoslavia approximately in 1250.
You were an oak tree.
---
Your brief psychological profile in that past life:
You led a sane & practical existence, a materialist with no spiritual consciousness. Your simple wisdom helped the weaker and poorer.
---
Lesson, that your last past life brought to present:
Your lesson -- to conquer jealousy and anger in yourself and then in those who will select you as their guide. You should understand that these weaknesses are caused by fear and self-regret.
---
Note: If u wanna be my keypal or just wanna e-mail me 'bout sumtin', sign the guestbook/dreambook below 'n leave your e-mail address, 'n I promise I'll get back 2 u.